Introduction 
Sometimes we have to work in a very congested area.  Normal drill machine is not compatible for that purpose. Like close quarter small door opening and angle working space. Then we have to find suitable chuck for working this type of working space. If we are able to find right angle chuck or the chuck work shift center of action then my work will be easy.  
In general, all chuck is interchangeable based on its size like, 3/8 or ½ inch threads and its versatile spindle size. 
If you are interested to know are drill bit interchangeable? then read our blog post.
Types of Chucks 
There are 2 major types of chucks  
1. Keyed,  
2.  Keyless drill chuck 
Keyed chuck also called Jacobs Chucks. A key is required to insert drill bit to the chuck, and turn it clockwise or counter clockwise to adjust the bit. There are ball bearing and plain bearing chucks. Ball bearing chuck is for heavy duty work and plain bearing chuck for light work. Another light duty chuck is used for hand held electric type drill machine. 
If you are interested to know details about left hand and right hand drill bit read this blog post.
Keyless chuck also called Albrecht as it invented in Albrecht firm. This is self-tightening feature chuck. No key is required to operate and easy to mount and fast tool change. Keyless chuck can be single sleeve and double sleeve.  
SDS and Hex connection type chuck also available in the market for special type of drill bit. 
After deep research we have found some special purpose chuck like Right angle chuck, Eccentric Chuck and Quick Connect Hex Chuck that will serve our purpose. 
How to interchange chuck between drill machine? 
Hear we have shown some tricks how to interchange the chuck between different drill machine step by step.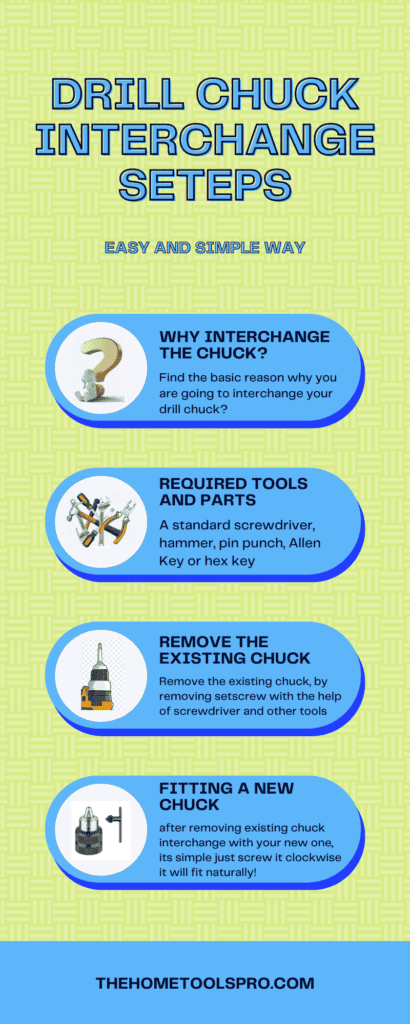 Step-1:  Why Interchange the chuck? 
Sometimes we have to insert small drill bit like 1/16 or 1/32 inch to the chuck, but chuck may not fit as jaw chuck make large gap. The result is we have to interchange chuck in another drill. 
Step-2: Required tools and parts 
A standard screwdriver with Phillips or Trox Setscrew to remove or retaining screw. 
A hammer to fix the jaws to the chuck. 
A pin punch. 
A large Allen Key or hex key. 
If the chuck is not keyless the we need a key. Basically, there are 4 types of chuck key:  
Three chuck size- ½, 3/8, ¼ 
Two spindle male and female 
Two spindle size ½ and 3/8 
Two torque- non-reversible and reversible 
Step-3: Remove the existing chuck 
We have to remove set screw to remove the chuck. Setscrew attached the chuck with spindle and it tighten the chuck and setscrew during spindle rotating. So, it is not easy to remove setscrew.  
First, we have to open the chuck jaw as setscrew is in the mouth of the jaw. So open fully jaws to screw clockwise to remove setscrew. After removing the setscrew turn counterclockwise chuck to screw from the spindle. We may not able to make it by your hand then we have to use large Allen key or Hex key also may need a hammer to tap the key. 
Sometimes, we have to remove the seized chuck, to do that we have to use chuck key with a hammer to retract the jaws into the chuck as we need to remove setscrew first. After fully retracted the jaws into the chuck then fallow the previous procedure.  
Step-4: Fitting a New Chuck 
After removing the existing chuck just screw the other interchangeable chuck clockwise and then setscrew it as counterclockwise. Then it ready to go.  
Conclusion 
After searching in the market, I have found some C-Series, T-Series and Flexi Click drill machine which have 4 dynamic type chuck. The Fastool and Bosch has this model including quick and easy connect changeover time.