Be familiar with these types of hand saws as your requirement. If you need a manual small cut then you can choose a manually powered hand saw.  But if you need a massive cut you can choose a power-driven saw. 
Saw works based on its teeth. Teeth ranged from 2-32 this is called Teeth Per Inch (TPI). The lower the teeth cut quickly but rough cut. And bigger the TPI range smooth and finish cut. 
Types of Hand Saws With Uses
Hand Saw is a manual or muscle-powered driven saw tool.
We can use Hand saw for:
Wood working
Metal working
Drywall
Plastic 
Furniture Making
Wood working
based on your requirement different types of hand saw you can use for your project like you can make your own chairs or sleeves. Also in your gardens like erecting a fence or resize your trees and shrubs. 
Backsaw helps precise cut
Pull saw dovetail cut
Coping saw inside cut of a wood
You also can bow saw, rip saw, hack saw,  keyhole,  crosscut, Japanese,  fret for your own purpose.
Metal working
Keyhole can pierce a hole in metal
Hack Saw can cut metal in pieces
Drywall
 Keyhole saw can make hole into the floor fixtures, wall, ceilings,  and outlets. 
Wallboard saw can cut a wall 
Plastic work
you can use pull saw, fret saw, hack saw, keyhole saw for plastic work. 
Furniture Making 
You can use rip saw, or work with a crosscut when want to design pulls, making molds, pegs or drawer stops
You can use pull saw or dovetail saw to complete shelf and drawer dividers
Coping saw helps to making curves during making a molds
To know different types of power saws you can read this article.
Hacksaw
Depending on the usage there is 2 type of hacksaw in the market, frame with fix length and flexible frame. You can change the length as your requirement by adjusting the frame, also you can adjust blade tension by using a tension screw nut attached to the end of the frame. Most widely use C shape frame to cut metal pipes.
The average length of the blade is 10 to 12 inch and 7/16" to 9/16″ wide and are 0.025″ thickness. The teeth of the blade vary from 14-32 per inch (TPI). You need a blade with fine teeth to cut thin metal and less TIP to bigger jobs like the thick iron pipe.
Depending on the thickness of material and type of materials different types of blade use, see below table for details: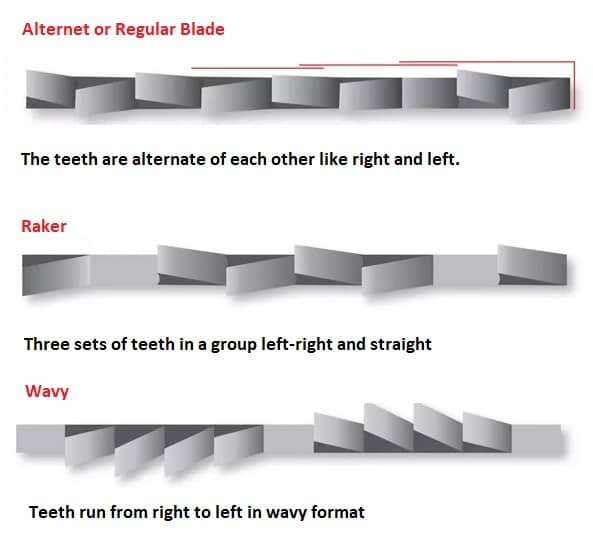 Type of blade
Construction
Usages
Alternate/Regular
The teeth are alternate of each other like right and left.

1. For quick removal of iron-free softer metals like aluminium or tin, PVC, conduit, cut fibreglass
2. Rough cut less finishing
3. Don't use heavy metal
Raker
Three sets of teeth in a group left-right and straight

Thick or standard metal pipes
Wavy
Teeth run from right to left in the wavy format
1. Smooth cut in hard metal, useful for cutting sheet metal
2. Not use in hard metal
3. Less noise and vibration during cutting
Coping Saw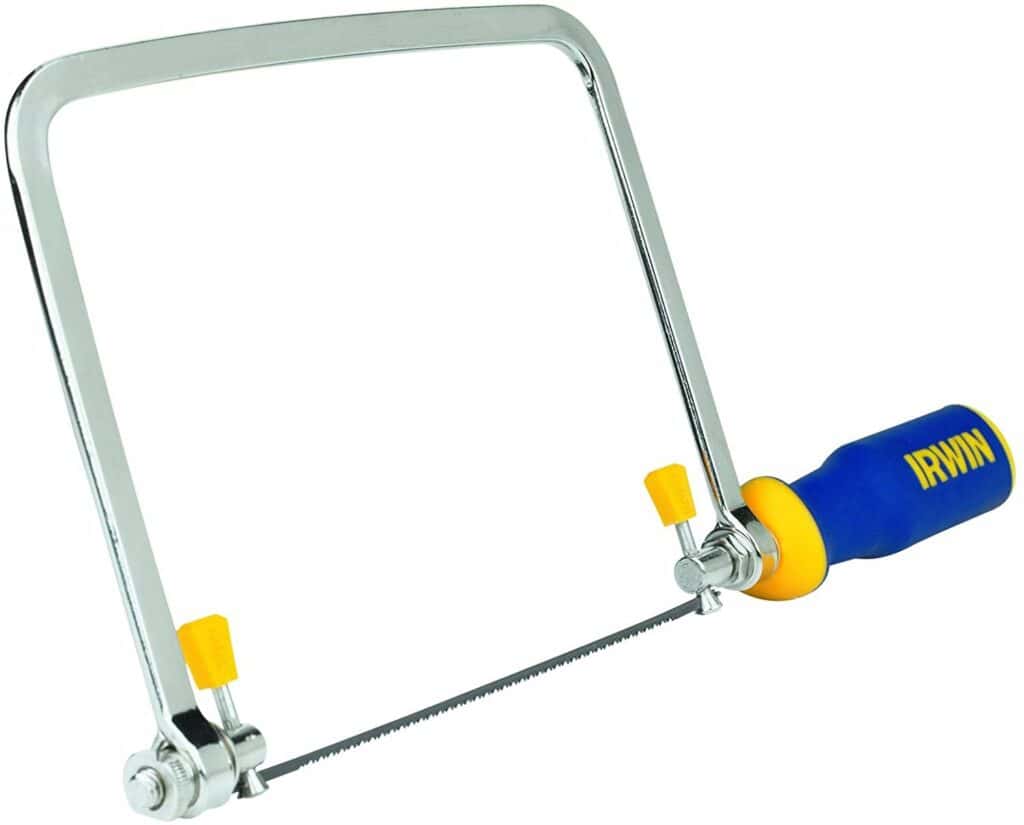 Coping saw as like hack saw and in bigger bow saw category. The purpose of U shaped saw is basically coping. The saw also used both external and internal cutting. Coping saw blade is thin and shorter compare to other bow saw typically 6-3/4 inch. The blade is attached in a lighter steel frame locked on both ends by 2 tension screws.  Teeth range between 10 to 32 TPI. 
Coping saw use to thin materials such as trim work, cut wooden molding,  aluminum pipework. Coping tiny blades capable to cut back-beveled to create precise joints. This saw should not use for more than 1 inch thickness job. 
| Type of Saw | Type of cutting |
| --- | --- |
|   | cut through a hole or even a cutout |
|   | back-beveled cut |
| Coping Saw | back-cut curves and create precise joints |
|   | inside corner joints when installing trim |
|   | angels, corner, crown molding |
Bow Saw
There are 2 different types of bow saw, straight toothed and raker toothed. The frame is fixed length but blade tension is adjustable by tension screw. The longer the blade have bigger teeth and the shorter saw have smaller teeth. Bigger and fewer teeth can give you faster cut but rough but more teeth less cutting ability but fine cutting and more finishing. 
Bow saw is used for outdoor crosscut the trimming trees, pruning, sawing logs, but may be used for other rough cuts as well.
| | |
| --- | --- |
| Type of teeth  | Type of cutting |
| long blade with numerous transverse teeth | remove material when pushing and pulling |
| 3.5 to 5 TPI | suitable for rough cutting |
| 6 to 8 TPI | all-round cutting |
| 9 to 11 TPI  | fine carpentry |
| 12 and more TPI | suitable for very fine carpentry |
Rip-Cut Saw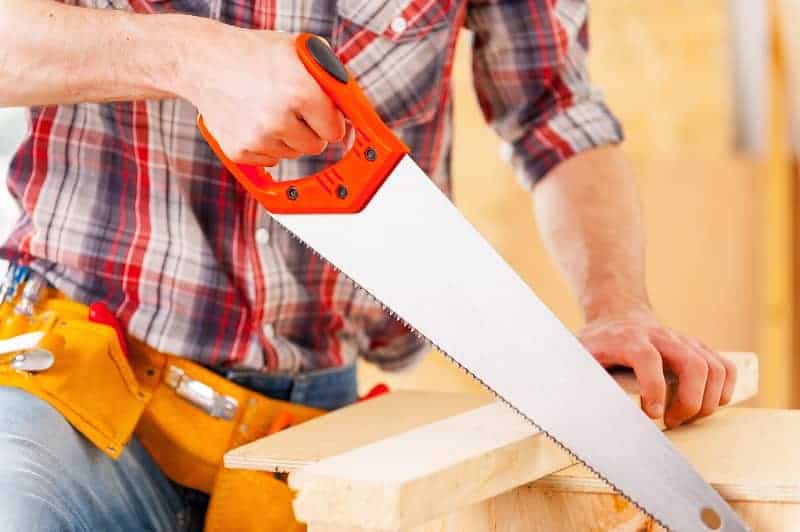 Rip cut saw is an all-purpose tool for woodworking. The saw rip wood or cut wood on its lengthwise by making and removing grain. Teeth of the blade alternate between left and right bend. The rip saw cut only push stroke and clean its grain when backstroke.
The average TPI is 5. Most of the time the blade has large angled teeth. The average of 6 to 8 TPI and can both rip wood and cut across the grain.
Crosscut Saw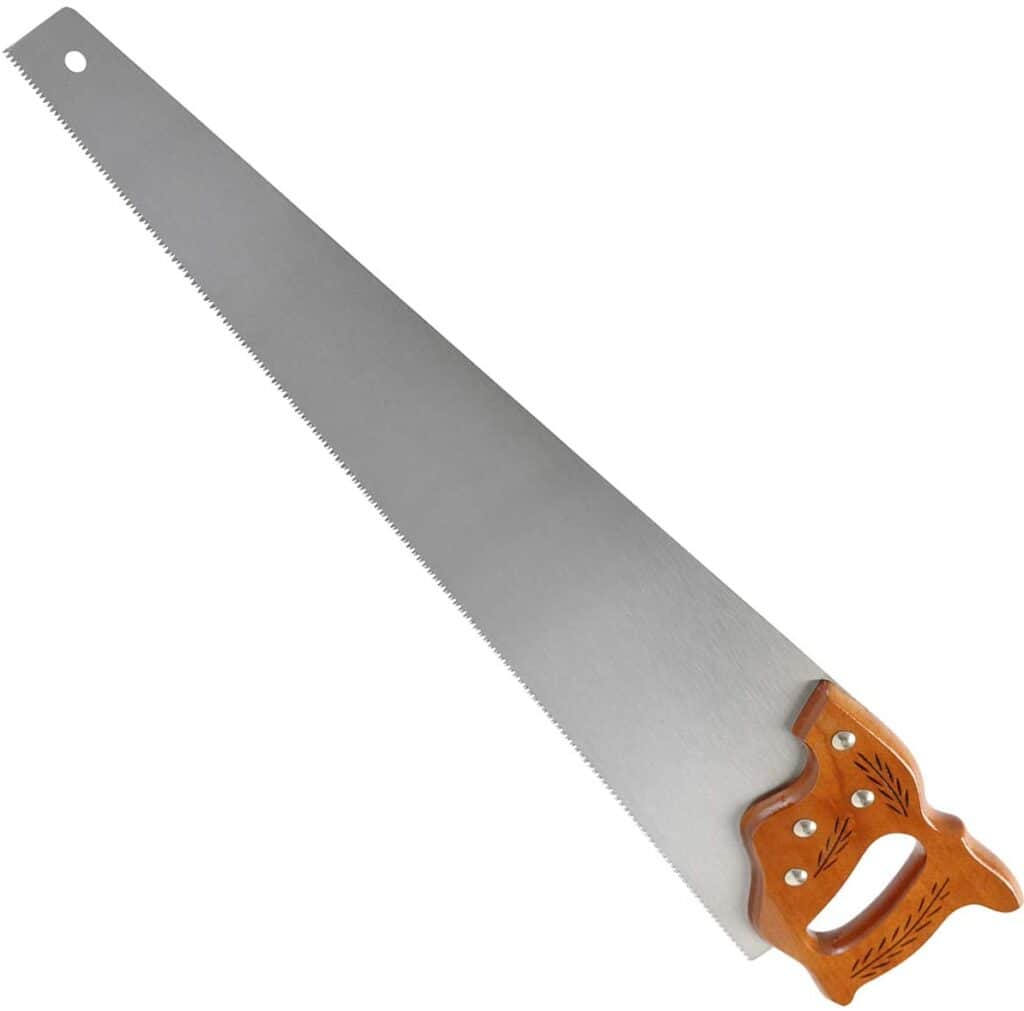 This type of saw is a conventional type saw that can cut the roughest type of wood surface. there is 2 type of crosscut saw in the market, 1 person and 2 person usage. The 2 person crosscut saw blade is bigger in length (like 4 feet 6 feet and 8 feet) than other types of hand saw also thicker (1.5 mm)  and wide (6.5 inches). 
The 1 person crosscut saw blade teeth between 10 and 12 TPI and 2 person saw  1 TPI.
The cross-cut saw is designed for trimming branches or cutting lumber, as well cut across the grain of the wood
There are some other types of Hand Saw
Fret Saw
Hole Saw
Veneer Saw
Wallboard Saw
Pruning Saw
Pole Saw
Keyhole Saw
Japanese Saw
Back Saw
Describing the above types of hand saws you can easily select which one is best fit for your project.