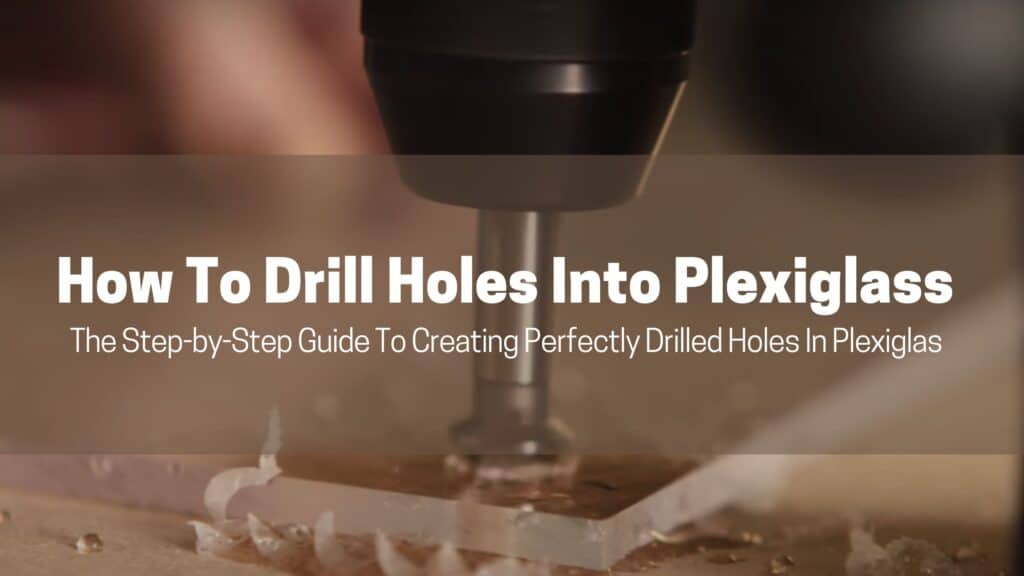 If you're looking for guidance on how to cleanly and precisely How To Drill Holes Into Plexiglass, you've come to the right place. In this post, i will show you how to drill holes in plexiglass like a pro. If you follow these steps, you'll always end up with the perfect hole, whether you're installing a new doorknob or working on a decorative project.
Acrylic, or Plexiglass, is a transparent material widely used in place of glass. It may replace glass in many situations due to its lightweight nature. It is also resistant to shattering, making it an excellent choice in settings where security is a top priority.
Plexiglass can be drilled with regular drill bits, although it can melt and jam on the bit if the drill gets too hot. To prevent this from happening, it is recommended to work in short, intense bursts followed by brief rest periods in order to maintain a cool drill bit.
Required Materials for Drilling Holes Into Plexiglass
The clear material known as Plexiglass is much more durable and difficult to break than glass. It's used for a wide range of purposes and can be found in places like windows, aquariums, and billboards. Plexiglass can be drilled with a standard drill and a sharp bit, but extra care must be used to prevent the material from cracking or fracturing.
-Drill
-Plexiglass
-Clamps
-Water
Required Tools
When it comes to piercing plexiglass, you have a few options. Carbide and diamond-tipped tools are the most widely used. The holes they make are typically smoother and cleaner than those made with traditional high-speed steel bits. Parabolic flutes on plexiglass drill bits help clear the cutting chamber of debris and protect the material from cracking while it is drilled.
Selecting an appropriate drill is also crucial. It is possible to use a regular corded or cordless drill, however it is recommended to use a slower speed to prevent the plexiglass from breaking due to overheating.
Plexiglass should not be drilled with an impact drill because the high speeds can cause it to shatter. When drilling plexiglass, a variable speed drill is ideal because it allows for speed adjustment.
Mark the exact center of where you want to drill your hole with a pointed pencil. Use a little drill bit to make a pilot hole first. Select a drill bit with a diameter slightly smaller the size of the screw you intend to use.  
Hold the Plexiglass up to a light source so that you can see the shadow of the drill bit on the surface.  Doing so will ensure that your drill bit remains perpendicular to the Plexiglass as you work.
Start drilling slowly and gradually speed up. Use little pressure to prevent the drill bit from skidding. Stop what you're doing if the drill bit starts to veer off course, and then make the necessary adjustments.
About halfway through the Plexiglass, you should switch directions and drill through the other side. As you drill through to the other side, this will help keep things from breaking.
Step by Step Guide
Windows made of Plexiglass can be found in a wide range of structures, from sheds to wildlife observation centers. The material is strong and simple to work with, but it cannot be fastened with nails or screws.
Because of this, you'll need special brackets or stands to hang anything on plexiglass. However, a hook or knob can be simply installed by drilling a hole in the plexiglass. For assistance in drilling holes in plexiglass, consider the following:
Before start ensure 2 things hole should not near to the edge and make a mark point for accurate positioning.
Use a sharp drill bit- A sharp drill bit will leave cleaner holes and be less prone to shatter the plexiglass as you work. You can find special drill bit for plexiglass featured different geometric structure designed for drilling this type of materials.
Drill slowly – if you drill too rapidly, the bit may get too hot and melt the plastic. Take things slowly at first, then pick up the pace as you get used to them. Try to keep drill RPM between 500 to 1000, that will help to control temperature and smooth pace of drilling.
Use plenty of lubrication – To protect the drill bit from overheating and to keep it from becoming stuck in the plexiglass, use plenty of lubrication. Apply liquid petroleum jelly or water (for small holes only). 
If your sheet is thick the check temperature frequently and keep smooth pace during drilling, also use adequate lubricant.
Before doing the main job try on a scrap piece of plexiglass, to check all setup are ok for doing it.
Clamp down the plexiglass – Do not risk damaging the plexiglass by drilling without first clamping it down. To avoid damaging your work surface, set a scrap piece of wood under the clamp.
To hang something on the plexiglass, simply drill holes and attach the appropriate hooks, knobs, or whatever else you need.
Want to know more about how to drill holes into plexiglass see this video.
Troubleshooting
In order to prevent the bit from slipping, you can glue a scrap of wood to the plexiglass and use that as a drilling platform. Try a different drill bit size or brand if the slipping persists. The quality of your bits determines how long they will remain sharp and how easily they will slip.
Change to a drill bit designed for the material you're working with if you find that it breaks or wears out quickly. Drill bits with a carbide tip are effective when working with plexiglass and other hard polymers.
Just switch to a bigger drill bit if the hole still isn't big enough. The hole can be patched up with putty or epoxy and worked around if necessary.
FAQs
The various forms of plexiglass, please.
Extruded and cast plexiglass are the two main varieties. To create extruded plexiglass, a substance is heated until it is a liquid, and then it is pressed through a die. To create cast plexiglass, the material is poured into a mold.
What kind of plexiglass is best for drilling?
As it is less likely to crack during the drilling process, extruded plexiglass is the better option.
Can plexiglass be drilled?
First, locate the exact location of the hole you want to cut in the plexiglass. Then, make a pilot hole using a drill bit that is somewhat smaller than the final hole size. The hole must then be completed by switching to a larger drill bit. After that, you may finish off by filing or sanding down the rough edges surrounding the hole.
How to Drill Holes in Acrylic?
Gather the necessary tools: Assemble the required equipment: You'll need a power drill, a drill bit that can be used with acrylic (either a twist bit made for plastic or a diamond-tipped bit), some masking tape, and a scrap piece of wood.
Mark the location of the hole: Mark the spot where the hole will be drilled: Use a pencil or marker to mark the location of the hole. Then, use masking tape to seal the region around the mark, preventing the acrylic from chipping or splitting.
Secure the acrylic: To secure the acrylic, set it on top of a scrap piece of wood. This will stop the acrylic from splitting when you drill. After that, secure the acrylic to the wood to prevent movement while drilling.
Start drilling: Start drilling by inserting the drill bit and drilling gently and slowly at a low speed. As you drill the hole, gradually pick up the speed. Maintain the drill bit perpendicular to the acrylic surface while applying minimal pressure.
Remove the masking tape and clean up: When you have finished drilling the hole, remove the masking tape and clean up any shavings or debris.
It's vital to remember that drilling acrylic can generate a lot of heat and, if done incorrectly, cause the material to melt or crack, so proceed gently and use a drill bit made for plastic.
Can You Drill Plexiglass?
Yes, drilling plexiglass can be done in a manner akin to drilling acrylic. The procedures for drilling plexiglass are identical to those for drilling other acrylic materials because it is actually a form of acrylic plastic.
To prevent breaking or chipping the plexiglass, it's crucial to use a drill bit that is made for use with plastic, drill carefully, and apply minimal pressure. Masking tape can also be used to shield the plexiglass's surface from damage and stop it from cracking while drilling.
As opposed to certain other varieties of acrylic, plexiglass can be more likely to break or melt during drilling, thus it's very crucial to go carefully and use the proper drill bit.
Final Thought
Because of its durability and adaptability, plexiglass is used for anything from window panes to picture frames. While pre-cut sheets of plexiglass are available for purchase, you may find that custom-sized cuts are necessary.
In order to avoid cracking or shattering the material, it is vital to take your time when cutting plexiglass, even though it is not very difficult to do so.
Use a sharp drill bit and take your time while drilling holes in plexiglass. First, drill a small pilot hole, and then enlarge it as necessary. Working with plexiglass necessitates the use of protective eyewear due to the material's susceptibility to shattering in the wrong hands.