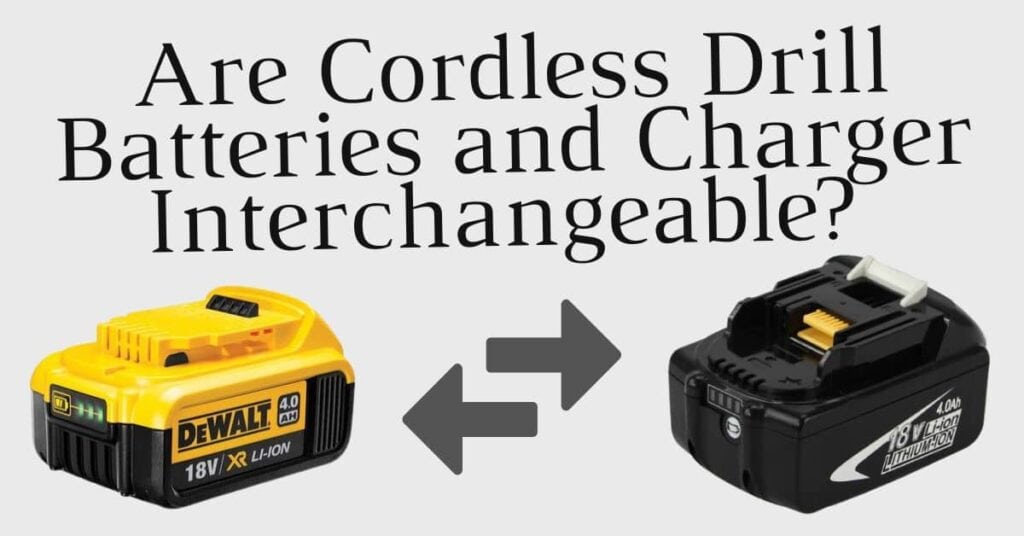 Cordless drills are a remarkably flexible and useful item to have around the house or workshop. They provide you the flexibility to walk about while working and the mobility of not using a power outlet. Many versions include replaceable batteries, allowing you to keep a backup charged and ready to go.
But what if the battery in your cordless drill dies and you don't have a spare? What if you need to operate your drill in an area without a power outlet?
Cordless drill batteries are not interchangeable across brands, however they may be interchangeable within the same brand, such as between Black & Decker cordless drill, cordless circular saw, and reciprocating saw, which may all use the same batteries.
We frequently have to verify whether cordless batteries or chargers are interchangeable, as we are in the middle of a job and our battery died, or some cordless power tools sit inactive in the tool box owing to battery availability. We are tempted to investigate whether or not other manufacturers' extra batteries will suit our brands.
We must consider several parameters such as battery volt, form, and so on, or else our tools may be damaged owing to the excess power of different batteries, which may also affect power tool life.
What is the cause of this inability to use batteries from different brands? Most likely, the producer has its own production specifications, manufacturing method, and raw materials, so the design and characteristics do not match those of other companies.
Another factor might be a commercial concern; if we can use the same batteries for various brands, we are less likely to buy new ones.
Finally, you should think about the battery's cost. While it may be tempting to save money by purchasing a less costly battery, you may discover that it does not last as long or perform as well as a more expensive choice.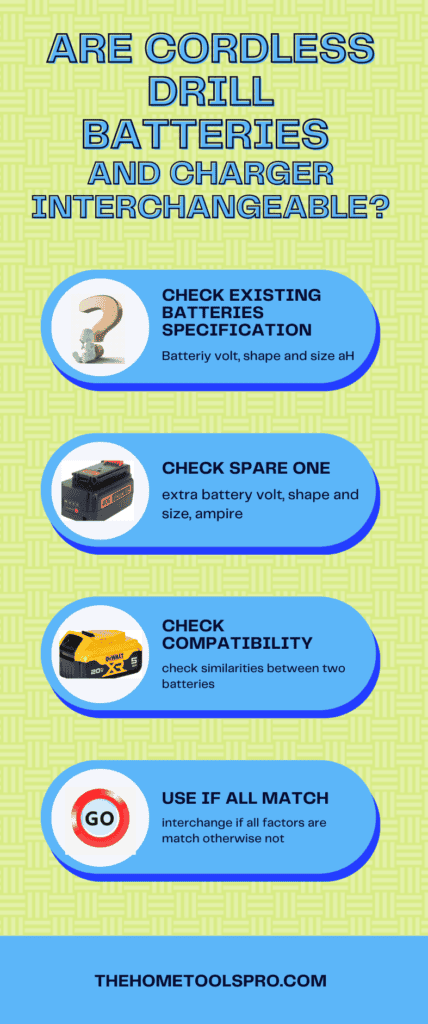 Are 18v and 20v Batteries Interchangeable between brands?
Do you have a cordless drill that you adore but whose battery is running low? If you're like the majority of people, you want to know that the battery you already have or going to buy will work with your drill.
The issue is that the majority of cordless drill batteries are not interchangeable between different brand but same brand. That is, an 18v battery from one manufacturer should operate with a 20v drill from another. There are a few things to bear in mind, though, if you want to extend the life of your battery.
First, it's important to know that the voltage of a battery is not the only factor that determines compatibility. The battery must also have the same chemistry and be the same size. For example, a lithium-ion battery will not work with a lead-acid drill.
Second, even if the battery is compatible, it's not a good idea to use a higher-voltage battery than what your drill is rated for. Doing so can damage your drill and shorten the life of your battery.
Finally, keep in mind that some brands offer proprietary batteries that can only be used with their own drills. If you have a branded drill, it's best to buy a battery from the same company.
In summary, most cordless drill batteries are cross-compatible in same brand, but it's important to check the compatibility before you use. It's also a good idea to use a battery with the same voltage as your drill. You have to keep in mind that if you use 18v in 20v then drill will not perform its best output, and if you use 20v in a 18v drill machine the it may damage your drill.
Can I use a Cordless 40v Battery in a Cordless 20v Tool?
It is possible to use a cordless 40v battery in a cordless 20v tool, however it is not recommended. The 40v battery is intended for use with more powerful equipment, and the 20v tool may be unable to manage the higher power.
Furthermore, the 40v battery may not fit well in the 20v tool, resulting in tool damage like short circuit or fire out cable or circuit board.
Are Lithium-Ion Batteries Interchangeable?
Lithium-ion batteries are not interchangeable. Each battery is specifically designed for the device it will power. While some batteries may look similar, they are not created equal.
Using the wrong battery in your device can cause damage and even pose a safety hazard. So, it's important to make sure you are using the correct battery for your needs.
If you're not sure which battery to use, consult your device's owner's manual or the manufacturer. They will be able to tell you which battery is best for your device.
Also check the size and shape of the battery as it may not fit with the another drill of different brands.
Are Porter Cable and Craftsman Batteries Cross-Compatible?
Porter Cable and Craftsman batteries are not cross compatible. Rather you have to think of keeping 2nd and 3rd backup batteries.
Why Drill Batteries of Different Brands Are Not Interchangeable?
Batteries of various brands cannot be interchanged, however they are compatible with the majority of models of the same brand. 
The incompatibility of a battery pack with a drill from a different brand is what allows manufacturers to remain profitable in the long term! Companies purposely design their batteries to be incompatible with competitor brand drills. 
This ensures that customers will return when their drill batteries wear out and they need to be replaced, or when they need an extra set to power their drills for huge projects. Furthermore, the lack of battery compatibility among brands helps businesses avoid warranty claims.
If you've read the user's handbook for your cordless drill, you've probably noticed something to the effect that using third-party goods voids the tool's warranty.
When Should You Change the Drill Battery?
If your drill is becoming slow, it may be time to replace the battery. A decent rule of thumb is to replace the batteries every two years, even if it doesn't appear to be necessary.
Batteries lose capacity over time and must be updated to maintain your drill running at peak performance.
Are Black and Decker Batteries Interchangeable with Dewalt?
The quick answer is that Black & Decker and Dewalt batteries are not compatible. Though both manufactures provide a wide variety of range of battery sizes and types.
When utilizing one brand's batteries with another brand's equipment, there are a few things to bear in mind. 
First and foremost, ensure that the battery is fully compatible with the tools you are going to use.
Second, it is critical to follow the manufacturer's usage and care recommendations.
Having said that, Black and Decker batteries may be used with Dewalt tools and vice versa if the size and shape is same to same otherwise not. In our research we have found most of the case Balck & Decker and Dewalt batteries are not interchangeable.
What Cordless Batteries are Compatible with Dewalt?
Cordless batteries are growing more popular, and Dewalt is one of the major manufacturers. But which cordless batteries are compatible with Dewalt?
Dewalt provides a variety of cordless battery alternatives, including the well-known Flexvolt batteries. Flexvolt batteries are compatible with all Dewalt cordless power tools, making them an excellent choice for individuals who desire the convenience of cordless power while still being able to utilize a wide range of tools.
Dewalt also offers Lithium-Ion batteries, which are compatible with Dewalt's Lithium-Ion power tools, and NiCad batteries, which are compatible with Dewalt's NiCad power tools.
All Flexvolt batteries are wonderful because they can be used with various voltage Dewalt power tools and will alter voltage based on the tool such as the 12.0 AH, 9.0 AH, and 6.0 AH.
Most of Flexvolt batteries are interchangeable with Dewalt power tools ranging from 20v to 60v.  No problem if you're using a 120v cordless tool. Felxvolt has your back.
Are Cordless Drill Chargers Interchangeable?
If you need to use a drill charger for another drill, make sure their power ratings are compatible. Failure to do so may result in tools and equipment damage.
It is safe to use a low-voltage charger on a battery with a higher voltage rating, but it will take longer to charge to full capacity. You must not charge its battery if it is rated lower than the charger's output power specifications.
Using a high-power adaptor to charge a low-voltage battery can render it inoperable and, in extreme situations, cause fire and electric shock.
Final Thought
Do you need a new battery for your cordless tool? You might be able to swap one company's battery for another company's battery. However, I would advise against changing the battery to make it fit, since this might damage the battery and perhaps cause harm.
Instead, try purchasing some Dewalt cordless tools with replaceable batteries. Don't forget to have spare batteries on available – they might come in handy!