Types of Power Saws
To know different types of hand saws you can read this article.
Jigsaw
Jigsaw is a reciprocating type saw. The blade is attached with the motor to the main device. Jigsaw has different cutting capabilities like 1) straight 2) orbital. The main feature of a jigsaw is its ability to cut curves. When orbital cutting action then the saw make curve or bevel type cut.
The blade cut during upstroke as the teeth of the blade mounted upward. But reverse blade cut downstroke for special purpose like finished surface as laminated surface.
A jigsaw blade can cut any type of wood with a TPI between 8 to 10. The blade is 5 inches long and 1/20″ to 1/4″ wide.
The saw stands on a large flat base called "shoe" which is adjustable during angle cut.
Depending on your requirements you can use the 1/4-inch wide blade for tight curve and a 3/8-inch wide blade for the standard curve.
What is a Jigsaw used for?
The main objective of the jigsaw is to cut out patterns or make curved in thin materials like plywood, intricate cuts in wood. But jigsaw can cut other materials like sheet metal, ceramic tile plastic etc.
The jigsaw can cut any shape from a larger wood or PAL board or MDF. For hard materials should make a hole by drilling.
Some points you can keep in mind:
Jig saw not only cut wood but other materials also.
You can use jigsaw as cordless.
Kids can use jigsaw as it safe.
Jigsaw is very suitable for curve cut.
Jigsaw can bevel cut
| | |
| --- | --- |
| Type of Cutting | Details |
| Curved cuts | The saw can make curve line on the wood, synthetic materials, metal and even tiles (special blade) |
| Straight cuts | With the help of a little wider blade jigsaw can cut any type of straight cut |
| Plunge cuts | Plunge in the middle of any workpiece rather than edge |
| Making Hole | Making a hole in wood or plasterboard for the electrical outlet |
| Bevel cuts | The shoe of the jigsaw allows it to make a bevel cut up to 45 degree |
What materials can a jigsaw cut?
Wood
Plasterboard
Plastic (including fiberglass)
Metal
Laminate
Circular Saw
A Circular saw is a lightweight and easy to use saw. The circular blade is enclosed to the main device is connected to the electric motor by a connecting shaft. The motor provides power to rotate the round blade. there are also battery powered circular saws in the market.
Electric-type is suitable for professional working and battery-powered is suitable for hobby and DIY as it is easy to handle.
The saw has a wide base that travels around the surface of the materials to cut. You have to push the saw to cut the materials.
The disc-shaped blade has sharp teeth used to cut different types of materials. Depending on the size of the materials blade diameter may vary as a 4-inch blade for light woodworking and 12 inches for large timber. In general 7-1/4 inch diameter lade is suitable for most construction purposes.
The circular saw is less suitable for the small cut and tight curves and sharp angles.
Wood blades are suitable for plywood and limber. And masonry blades are suitable for joints in a concrete sidewalk.
The circular saw with good quality with a power of over 1.7kW can cut any type of materials by appropriate blades. It can be used for mitre sawing as a circular saw allows mitre at 45 degrees.
Types of Circular Saw
Corded circular saw
Cordless circular saw
Sidewinder circular saw
Hypoid circular saw
Cordwood Saws circular saw
Abrasive Saw circular saw
Track Saw
Cold Saw circular saw
Compact and Mini circular saw
Worm Drive circular saw
What is a circular saw used for?
Cross cut
Bevel cut
straight cut
Cutting Logs into Firewood
Thin metal plates and metal sheet
Cutting framing materials
Lumber
Cut Large-Sized Timbers
Long plywood, including wall studs
joists, rigid foam board, rafters, and
even concrete, plastic, stone and sheathing.
Chain Saw
The chain saw is specially designed for cutting lumber or fell entire trees with its numerous sharp teeth. The teeth are attached with a chain and the chain rotates around a guide bar. The guide bar range from 14 inches to 36 inches. A small guide bar is used for light cutting and pruning and a big one for lumberjacks. The chain and guide can be interchangeable between some models of chainsaws. The chain and guide is removal and its called "headset"
For most of the cases, an 18 to 20-inch guide bar is sufficient to fulfil the purpose as a 16-inch chainsaw can cut the tree which 32-inch diameter. To do that you need to cut systematically sawing around the entire trunk of the tree.
The most popular chainsaw is engine operated and gasoline fuel. Though in the market battery and electric power motor driven chainsaw also available. Engine operated chainsaw is more powerful than others.
But the gasoline engine requires more careful maintenance. it is necessary to regularly service engine components, monitor lubrication and prepare the mixture.
Also, safety caution needs to maintain because the tip of the guide bar kickback during operation. Also, have to refuel before the new operation starts. The gasoline engine chainsaw can work up to 10 hours as it is less moody and not overheat and can work at high humidity.
The clutch function is very useful as the position is set at the beginning and during cutting. To keep yourself safe from chain and guide kickback and overheating clutch sometimes during operation.
What is a chainsaw used for?
Cross cutting trim and logs
Wood processing.
Cutting firewood
Construction works.
Joinery and carpentry.
Repair work in the garden
Sculpting ice
Miter Saw
Miter saw is specially designed for making angle cut. It is used to cut precision crosscut during installing molding, framing and cutting siding strips.
Miter saw has heavy steel base helps to mount with the workshop table. A steel guide suited with the back edge called fence helps to align the materials during cut. Some miter saw have laser guides for more precision cutting.
Some Miter saw has pre set angle like 15, 30, and 45 degrees and some have the flexibility to adjust as per need.
The blade is mounted with the adjustable arm which can be lowered and raised as well as swiveled from side to side. The blade size 10 inch to 12 inch which determine the size of the Miter Saw. The blade is made of carbon steel.
Set or dial the miter box siblings as your required angle and cut angle cut is called miter cut also. The angle cut use the around the blade horizontally.
What is a Miter Saw used for?
frame for a table,
cross cutting of boards
finish carpentry
battens, bars
plat bands.
exact angles
complex angle cuts
Compound Miter Saw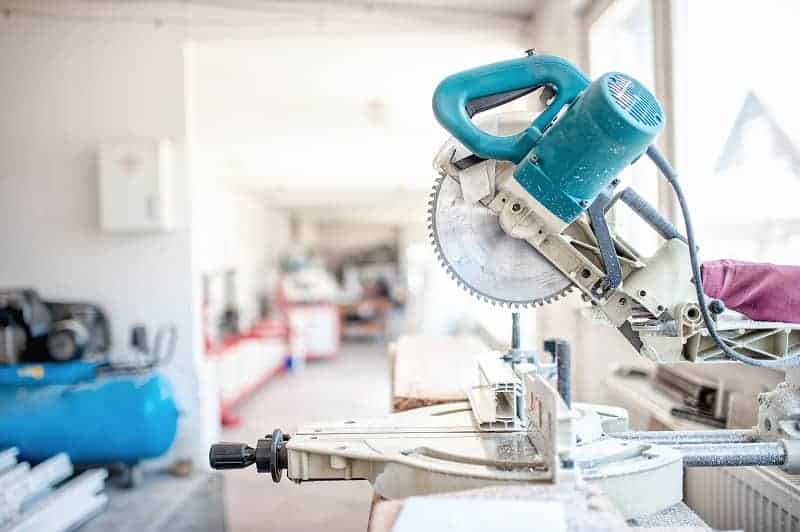 Compound Miter saw is more versatile than the basic Miter saw. The compound Miter saw pivoting arm can be tilled other than 90 degrees which makes it capable of bevel cut as well as more complex cut.
To be clear that angle cut is miter box move horizontally and no need to adjust the head vertically. But bevel cut need to adjust the head vertically as it make angle in vertically.
Compound Miter saw can produce angel miter, straight cut as well bevel cut with best precision and efficiently.
Band Saw (Stationary)
Band Saw (Portable)
Flooring Saw
Oscillating Saw
Radial Arm Saw
Reciprocating Saw
Rotary Saw
Track Saw
Table Saw
Panel Saw
Chop Saw
Scroll Saw
Tile Saw