Jigsaw is one of the most versatile power tools in your DIY projects toolbox. Jigsaws are designed to shape and cut materials such as wood, plasterboard, vinyl, PVC sheeting, etc. Now the question is can a jigsaw cut metal? Yes, as Jigsaw has good maneuverability, you can also use it for cutting metal, metal pipe, and sheet metal.
Standard Jigsaw can cut soft metals like aluminum easily. But for harder metals and non-ferrous metals need a heavy-duty jigsaw. Heavy-duty Jigsaw can cut through 10 mm Steel and 30 mm non-ferrous metals. To get the most intricate shapes out of Jigsaw about metal cutting, you need to select the appropriate blades. It is recommended to select a bi-metal or carbon tungsten blade for metal cutting. Blade TPI should be greater than 21 as TPI is the main factor during hard metal cutting.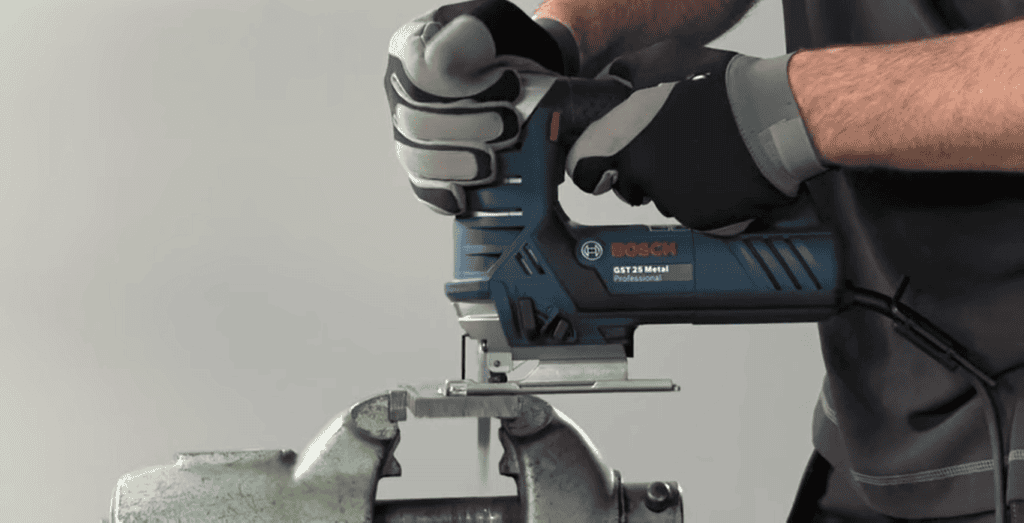 How to select the best Jigsaw for cutting metal?
It would be best if you found an appropriate jigsaw for cutting metal. When you select Jigsaw for cutting metal or sheet metal, you have to consider some features like motor power and variable speed.
1. Motor Power
Motor power is measured in amps in the corded Jigsaw and volts in the cordless Jigsaw. With higher amperage, Jigsaw performs as heavy-duty, and you will get a smooth cut for metal. In general, corded jigsaws have 4 to 7 amps power range and 18 to 20 volts for cordless Jigsaw in the market. Jigsaw for cutting metal 6.5 amps and 670W to more is suitable as cutting metal is a slow process, so it's better to use a corded jigsaw.
2. Variable Speed settings
Most of the jigsaws have variable speed features. For metal cutting, 500 to 3000 SPI (Stroke Per Minute) is enough. As metal like steel is hard materials speed so should slow and steady.
How select best jigsaw blades for cutting metal?
During cutting by using a jigsaw, the blade is the key to achieving good quality results. Sometimes you want fast cutting; you need fewer teeth blades, and when you want a better finish and make tighter turns require more teeth. So choosing an appropriate blade have a big effect on your work.
There are different types of jigsaw blades. But Bi-Metal and Tungsten Carbide blades are suitable for metal cutting.
Bi-metal: This blade has made by a combination of High-speed Steel and High-carbon steel. A high-carbon steel blade contains iron with some carbon and manganese, which makes it durable. So Bi-metal blades have both flexibility of HSS and durability of HCS. These blades have ten times longer life than single HSS and HCS. This blade is suitable for harder and heavy cutting of hardwoods and metals.
Tungsten Carbide: This blade is a combination of carbon and tungsten compounds like grit. As this blade doesn't have an edge like others, it can good finish and a smooth cut. This blade is expensive and suitable for the hardest materials like ceramic and steel.
As we know, jigsaws can cut hard metal, metal pipe, and sheet metal as well. So you need to select a medium to high TPI (Teeth Per Squire Inch). You have to select 18 TPI for thin-wall pipe and softer metals like Aluminium and 21-24 TPI for thicker and harder metals like steel. The higher the teeth, you will get smooth, controlled cutting.
What are the Required Tools for cutting metal by Jigsaws?
First of all, to attach the workpiece, you need clamps. Sometimes metals are cut like a sandwich by using the wood on both sides as thin metal like sheet metal. Then workpiece will not deform and bend.
Extention coed for uninterrupted smooth cutting.
Jigsaw
Appropriate Blade
Sawhorses or workbench for big workpiece
Clear workplace
Tape measure, pencil, template
Safety Precautions during cutting
Wear appropriate PPE, including hearing protection, safety glasses, and good gloves. As cut-off metal falls so wear sturdy reinforced good-quality boots or work shoes.
Step By Step how Can A Jigsaw Cut Metal
Here we will describe step by step procedure how to cut metal by using a jigsaw.
Prepare your metal workpiece
First, mark the cut line on the workpiece. Securely clamp the workpiece on the table. When there's not enough room between the top of the blade and the floor surface, you can put the blade on rails. You can use sawhorse or workbench as well. Keep adequate depth clearance if necessary placed on rails. Sometimes, you need to sandwich the metal between two scarp plywood to better finish, reduce distortion, and avoid shredding workpieces.
Plunge cutting in metal by Jigsaw is not possible. So if it is necessary, make a starter hole 5 to 8 mm dia to enter the jigsaw blade into the workpiece.
Mount the appropriate blade
Select the appropriate blade and mount it into the saw. Ensure the blade is secure and correctly tightened.
Check saws cutting settings
Check the saw is correctly set for metal cutting. Set the blade straight down position, which means setting the orbital setting to zero as angled forward is not suitable for metal cutting. If you think the shoe of the blade will scratch on the surface of the workpieces, then masking tape to help protect the surface finish.
Complete your cut
When all settings are correct, then switch on the power of the saw. Keep the saw shoe on the table without touching the blade to the workpiece. Then pull the trigger and wait for some time to get proper speed. After that, glide the blade into the workpiece. Follow the cut line and complete your cut.
If starting the cut away from the edge, then use the drilled hole to start cutting. It is important not to force speed and keep it steady and the blade will cut naturally for metal cutting. Tight curves should make relief cuts; this will help to reduce blade binding.
For safety purposes, both the workpiece and blade give some break during cutting and provide drops of tapping and cutting fluids to reduce heat. Move the clamps and rotate the workpiece to best suit the cutting line.
Final Thought
The Jigsaw is one of the most versatile tools in your toolbox. Use it for your different purpose. The Jigsaw is used to cut metal, and other hard materials to select appropriate blades. After going through the article, you have got the proper idea and step-by-step working methods to answer whether a jigsaw can cut metals?